(Photo Credit: The Telegraph)
I have an irrational love for vocal harmonies. Like, an absurd love. If I were to rank my objects of affection, the big 3 of God-Family-Friends, followed by music in general, would make up the first tier. Juice, basketball, the state of California, and vocal harmonies would occupy the second tier. When two or three human voices create chords, that is the epitome of beauty and purity to me, I'm serious. I maintain that this is the greatest moment in music, even though I've been laughed at for saying so. Haha.
The Beach Boys were probably the best in the business when it comes to harmonies, but in many cases, the Beatles were just as amazing. Well not Ringo really. Sorry Ringo. A huge factor in their signature sound was John Lennon and Paul McCartney singing together in harmony, with George Harrison occasionally getting in on the action to add a third part. Seriously though, those three could blend their voices in spectacular fashion. They also had the songwriting chops to put that ability on full display.
I decided (at the suggestion of my friend and fellow Fab Four aficionado Edgar Castillo) to come up with the 10 songs that best capture the Beatles' harmonizing. To be clear, these rankings are based specifically on the role that the vocal harmonies play in the songs. The criteria include, but are not limited to: the ease at which John, Paul, and (usually) George's voices blend; the nuance and complexity of the vocal lines, as well as the group's ability to execute them; the difference that the harmonies make in augmenting and improving the song; and the overall goosebump-causing, "this-is-incredible" factor. Sounds intense, but let's be honest, I mostly just focused on the goosebump-causing one.
Quick Honorable Mentions go out to Paperback Writer, for its opening 6 seconds of harmonic joy, and Baby's in Black, for its classicly solid John/Paul two-part harmony. And now, on to the top 10!
10. In My Life | Rubber Soul (1965)
This selection may not be as readily obvious as some of the other choices on this list, since John's masterpiece isn't really known for its harmonies, but listen for those subtle vocal touches. They make an incredible song even better.

9. Ask Me Why | Please Please Me (1963)
"I love you-woo-woo-woo-woo." Proof that even in the beginning, the boys were perfectly in sync.

8. Sun King | Abbey Road (1969)
The Beatles were throwing around random Spanish words long before Troy and Abed (with some Italian and Portuguese for good measure). John said, "We just started joking, you know, singing 'cuando para mucho.' Paul knew a few Spanish words from school, you know. So we just strung any Spanish words that sounded vaguely like something." And their harmonies while doing it are incredible, as per usual.

7. Nowhere Man | Rubber Soul (1965)
The a capella opening to "Nowhere Man" is so…I don't know, striking! I love it.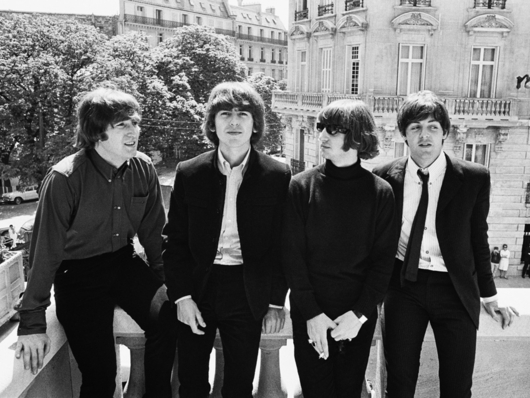 6. If I Needed Someone | Rubber Soul (1965)
I have stated that "It's All Too Much" is the Beatles' most underrated song. Well, "If I Needed Someone," another George composition, comes in a close second as far as under-appreciated songs are concerned. The whole thing is great, but it gets awesome when they get their second wind after the bridge at 1:22. They get in a zone and really lock into Ringo's steady drumming.

5. And Your Bird Can Sing | Revolver (1966)
This is my sister's favorite Beatles song, and I have no arguments here. You can hear the joy emanating from every line.

And, as a bonus, here's a clip of John and Paul messing around while trying to record a take.
4. This Boy | Past Masters, Volume 1 (1963)
When "This Boy" was released, that was the moment when the Beatles entered the harmony big leagues. This was the first manifestation that John, Paul, and George could really pull it off. And by the way, John doesn't do too bad in that chorus by himself.

3. If I Fell | A Hard Day's Night (1964)
Two heads are better than one. Three-part harmonies are better two. That's just how it is. Usually. However, "If I Fell" — with just two parts — is amazing enough to hang up here with the big boys and land in the top 3! This is Lennon and McCartney doing what they do best.

2. Yes It Is | Past Masters, Volume 1 (1965)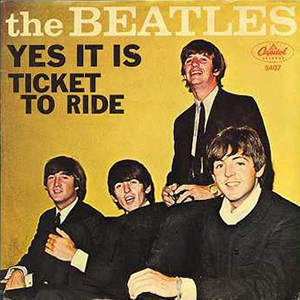 This was so close to being #1. So close. The intricacy and nuance of the three vocal parts in "Yes It Is," with all its gorgeous dissonance, makes it an incredibly compelling song. This is one of those instances where the harmonies augment and improve a song immensely, as per my previously mentioned criteria. John actaully insisted that "Yes It Is" was crap, saying that he tried to rewrite "This Boy" only to have it turn out badly, but he was just plain wrong. Not only does it show the complex chords swirling around John's head on a purely technical level, but it is also both heartbreaking and amazingly beautiful.

1. Because | Abbey Road (1969)

That goosebump-causing, "this-is-incredible" factor I was talking about? Check. Times a million. Really, how could anything beat "Because?" John, Paul, and George all recorded each of the three vocal parts, effectively making nine voices, but you wouldn't believe it based on how well they execute it. The way their voices blend together is stunning, capitalizing on their years of growing familiarity with each other. As a prominent cut on the Beatles' calling card Abbey Road, it showed John, Paul, and George putting aside their differences (albeit briefly) and coming together one last time to blow our minds.

If you think that was good (or, on the contrary, if you're not a big fan of that harpsichord), then listen to the version below. It's just the vocals. I dare you to not be blown away. It's even better than the original version.

I'm a sucker for harmonies and I'm a sucker for the Beatles. So when you combine the two, man…game over.